PODGORICA AIRPORT (TGD) INFORMATION
Origin
Airline
Flight no.
Scheduled
Est./Actual
Status
No flight arrivals were found at Podgorica Airport.
Destination
Airline
Flight no.
Scheduled
Est./Actual
Status
No flight departures were found at Podgorica Airport.
Car Hire at Podgorica Airport
UNBEATABLE VALUE CAR RENTAL
Free Amendments | Free Cancellations | No Card Fees




Podgorica Airport - All Information on Podgorica Airport (TGD) Podgorica Airport
969W+4M5, Golubovci, Montenegro
phone +382 20 444 244
phone+382 20 444 244 (Lost + Found)
call_end+381 81 622 252 (fax)
Facts and History about Podgorica Airport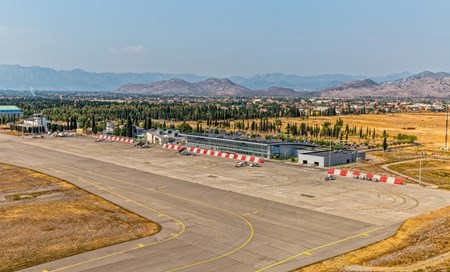 Podgorica Airport is a major international airport that serves the city of Podgorica and the rest of Montenegro. It is the country's second international airport, after Tivat Airport. The government manages both facilities.
Located in the Zeta Plain, one of the few flat areas in Montenegro, the airport is only 11 kilometers from the heart of Podgorica. Because it is within Golubovci's municipal boundaries, the airport is commonly referred to by the town's name.
The airport's IATA code remains TGD because Podgorica was called Titograd (after Josip Broz Tito) when the airport first opened. The previous passenger terminal, a modest cobblestone building, was retired after the new airport was completed due to the dramatic growth in air traffic in Montenegro in the 2000s.
The 5,500-square-meter, brand-new terminal for passengers was unveiled in 2006. It can accommodate up to a million passengers annually through its eight boarding and two landing gates. Since the airport does not see a large enough volume of travelers to warrant the installation of jetways, the terminal does not have any.
Indirect lighting is just one example of the cutting-edge architecture used in the main (new) terminal building's design. It offers various amenities, including dining options, coffee shops, duty-free stores, car rental counters, ATMs, and more.
The airport is relatively low risk. However, security measures have been visibly reinforced since the new terminal was built. The terminal is subject to the same level of security and monitoring as other European airports.
Podgorica - Bar route (E65/E80) provides a quick detour to the airport in Podgorica. The section of road between Podgorica and the airport is now an expressway. It takes less than 15 minutes to drive from the city's heart to the airport.
L-20 bus line connects the airport and the city center, and charter bus services travel to other major cities in Montenegro and beyond.
Belgrade-Bar train station is located at the airport, 1.2 km from the terminal. The awkward location and erratic train schedule mean that it is rarely used as a connection to the city.
The airport is 40 kilometers from Montenegro's main port of Bar through the Sozina tunnel. The airport is rapidly serving the needs of the cities on the southern Montenegrin coast.
History of Podgorica Airport
In 1928, when air travel in the Kingdom of Serbs, Croats, and Slovenes first took off, a passenger plane arrived in Montenegro.
On May 26th, 1928, the first leg of the journey began with takeoff from Belgrade to Skopje. The plane, appropriately dubbed "Skoplje, " stayed in Skoplje for two days before continuing its "tracing " of the airlines to Podgorica.
On May 29th, the plane touched down at the old airport close to Vrela Ribnika and was greeted with a beautiful and heartfelt welcome.
The first passenger plane touched down in Podgorica at 10:45 a.m. on May 5th, 1930. There were parties all across Podgorica. A crowd of several thousand people from Podgorica and the surrounding towns watched in anticipation as reporters penned "the engine bird," giving the event a level of acclaim never before seen.
Along with Sondermajer and pilot Strievski, "Farman," five journalists and collaborators of Belgrade newspapers were aboard the nine-seat " the main organizer of the company" aircraft. The president of Podgorica Municipality gave the pilot 10 Napoleons and Sondermajer the gold Montenegrin national costume at that event.
Podgorica hosted the first annual Air Show in June 1934. Over 10,000 people from all over Montenegro showed up. Seven bombers, three fighters, and a few classroom planes participated in this program.
On April 8th, 1946, scheduled passenger service between Belgrade and Podgorica began. The planes flew three times a week on Mondays, Wednesdays, and Fridays. Only 15 kg of baggage was allowed per passenger.
They didn't sit in regular passenger seats but rather on risers, which are seats that run along the fuselage and are designed with parachutist and troop transport in mind.
The first domestic cargo destination (BG-Sarajevo-Titograd) was serviced by C-47 aircraft in April 1957, carrying newspapers and other freight.
Titograd's airport boasts a concrete runway as one of the earliest to welcome commercial flights.
It was housed in a highly functional structure with all the necessary amenities. The whole area, including driveways, was close to 4000 square meters. Around a thousand travelers per day may be accommodated in the building. Together with its supporting infrastructure, the unit can consistently and competently handle 25–30 DC-9 airplanes daily.
Titograd-Golubovci Airport, one of the most modern in the country at the time, was officially opened on July 13th, 1977, the day of the uprising of the Socialist Republic of Montenegro.
With a runway measuring 2500 meters in length and 45 meters in width, the modern airport at Golubovci, close to Titograd, could accommodate nearly all types of passenger aircraft operating at the time.
Both ends were equipped with safety belts to protect passengers when their plane veered off the runway. A parallel taxiway was also 2500 m in length and 15 m in width.
In honor of the Montenegrin people's rebellion on July 13th, the city received the airport as the best possible present. On July 16th of that year, the airport in Titograd began regularly servicing passengers.
It was crucial for our country's aviation travel and the socialist republic of Montenegro. Titograd, Tivat, and Ivangrad made up Montenegro's relatively dense network of airports in 1977, considering the country's size and population.
Since its opening, the city's airport has been expanded, extended, and modernized. Podgorica is the best representative of the country, thanks to its stunning appearance, elegant layout, and charming individual components.
In 1999, the government of Montenegro established the public company Airports of Montenegro. After years of talks, on April 23rd, 2003, the airports in Podgorica and Tivat were transferred from the Serbian Company JAT to the Government of Montenegro.
Airports in Montenegro have undergone rapid, well-planned growth since state ownership. Both airports in Montenegro have been expanded due to €30 million in financing from the European Investment Bank and European Bank for Reconstruction and Development.
New airport facilities were erected, and the old ones were renovated. Improvements in service delivery to passengers and airlines were a primary focus of this initiative. Users of the airport's services also benefited from increased safety and security.
The renovated and updated Tivat Airport and the brand-new Podgorica Airport welcomed their first passengers on May 14th and June 3rd, 2006.
About Podgorica, Montenegro
The largest and most important city in Montenegro is Podgorica. In honor of Marshal Josip Broz Tito, the city was initially known as Titograd from 1946 until 1992, when Montenegro established the Socialist Republic of Montenegro as part of the Socialist Federal Republic of Yugoslavia (SFRY).
Podgorica's location at the intersection of the Ribnica and Moraa rivers and the Zeta Plain and Bjelopavlii Valley has made it an attractive place to dwell. It serves as the heart of Montenegro's economy and administrative hub. Podgorica serves as the economic, monetary, and commercial hub of Montenegro.
Trade and modest industry had been the backbone of Podgorica's economy since the city's founding under the Ottoman administration. Podgorica rose to prominence as a postwar urbanization and industry center in Yugoslavia (SFRY).
Podgorica is situated in a basin of Lake Skadar. It is close to the Adriatic Sea, in fertile lowlands with suitable temperatures, near Zeta, Moraa, Cijevna, Ribnica, Sitnica, and Mareza. Evidence of human habitation dated to the late Stone Age when the first permanent communities were established.
Both the Labeates and the Docleatae, two Illyrian tribes, lived in the region between the Zeta and Bjelopavlii valleys throughout the Iron Age. Every major urban problem had been remedied in the town of Doclea, which had between 8,000 and 10,000 people.
The strategic location, mild winters, prosperous economy, and strong defenses contributed to the area's high population density. The city's surrounding area is home to a wide variety of manufacturing and processing facilities, including those for aluminum and tobacco, textiles, engineering, automobiles, and wine.
Podgorica had a per capita income of 87% of the Yugoslav average in 1981. Podgorica's industries could not continue operating as usual due to a lack of customers, raw materials, and capital following the collapse of Yugoslavia and subsequent Yugoslavian wars and UN sanctions in the early 1990s.
Despite the chaos of the 1990s, some industries persisted and are now significant contributors to Montenegro's exports and industrial output. Podgorica reaped many benefits from the concentration of government and service sectors when Montenegro launched its quest for independence from Serbia in the late 1990s.
Montenegro's capital is Podgorica. It's also home to the country's stock market, media, and telecom companies. Although Montenegro was hit severely by the recession of the late 2000s, the city of Podgorica was spared from lengthy stagnation thanks to its thriving government and service industries.
The nearby cities of Doclea, Stara Varo, and Vezirov, as well as the ruins of the Ribnica stronghold, are also significant cultural and historical landmarks in the Podgorica area.
Podgorica's public transportation options are among the best in the region. Nine kilometers separate the city from the international airport, and the train and bus stations are conveniently located nearby.
Weather in Podgorica, Montenegro
Summers in Podgorica are brief, hot, and precise. In contrast, the long, extremely cold, wet, and partially cloudy winters can last for months. The average annual temperature is a comfortable 34.9 degrees Fahrenheit (1.7 degrees Celsius), rarely dropping below 26.2 degrees Fahrenheit (1.1 degrees Celsius) or rising over 99.0 degrees Fahrenheit (6.2 degrees Celsius).
For warm-weather fun, late June through late August are prime times to visit Podgorica. During the 2.8-month hot season (June 15th–September 9th), average daily highs are above 83°F. July had the highest average temperature in Podgorica, at 90 degrees Fahrenheit, and the lowest, at 69 degrees.
From November 21st to March 13th, daily highs rarely rise beyond 58 degrees Fahrenheit during the chilly season. When it comes to temperature, January is the coldest month in Podgorica, with average lows of 34 degrees Fahrenheit and highs of 50.
Suppose at least 0.04 inches of liquid or liquid-equivalent precipitation falls on a given day. In that case, that day is considered a wet day. Wet days are more or less likely in Podgorica during different times.
There is a greater than 26% chance of precipitation on any given day throughout the 8.2-month-long wetter season (September 23rd–May 30th). It rains at least 0.04 inches on 10.5 days on average in Podgorica during November.
Between May 30th and September 23rd, 3.8 months of dry weather is expected. As a whole, July is the driest month in Podgorica, with just 4.7 days receiving at least 0.04 inches of precipitation on average.
We classify wet days as either rain only, snow only, or a combination of the two. In Podgorica, a single day of rain occurs on average 10.5 times throughout November. The highest annual likelihood of rain alone appears on November 21st, with a reading of 38%.
Humidity levels in Podgorica vary slightly throughout the seasons. From June 4th through October 1st, 3.9 months, at least 3% of the time, will be muggier.
Transfer Services at Podgorica Airport
To go from the Podgorica Airport to your hotel or other location in Montenegro, you can take one of several options.
The costliest choice is to take a cab, but this mode of transportation also offers the most comfort and ease. Some buses travel between the airport and the center of Podgorica; they're less expensive than taxis but take more time and are less dependable.
To go off and see the sights on your own, you may now rent a car. Getting around Montenegro is a breeze, no matter what kind of transportation you select.
Rental Car Services at Podgorica Airport
Several firms provide this service if you require a rental automobile at the Podgorica Airport. They are located in the Arrivals area and are ready to assist you with your rental car requirements.
Be mindful of the local traffic laws and regulations. Ensure you have a current driver's license and insurance. When in Montenegro, always keep to the right side of the road when driving. See and compare all rental car companies at Podgorica Airport.
Rideshare Services at Podgorica Airport
In Montenegro, there are no ride-sharing services. Please consider alternate choices, such as a cab or rented automobile.
Taxi Services at Podgorica Airport
Outside the arrivals terminal, taxis are accessible around-the-clock. Depending on where you are going, the typical entrance fee into the city is about €15.
Many private transfer businesses operating at Podgorica Airport might provide significantly more expensive rates. However, they could feel more at ease on lengthy trips. See more information about taxis at Podgorica Airport.
Train Services at Podgorica Airport
At the airport in Podgorica, there are no train services available. Take a taxi to the central train station close to the city center. Check out our trains page for further details. More information about train services near Podgorica Airport.
Bus Services at Podgorica Airport
There are not many bus options at the airport in Podgorica. Please use a cab or a different form of transportation, such as renting a car. More information about buses to and from Podgorica Airport.
Hotel Shuttle Services at Podgorica Airport
Podgorica Airport provides several shuttle services to assist visitors in traveling to and from their hotel accommodations. When you arrive, inquire about availability with one of the several shuttle services that run out of the airport.
The travel into town takes around 15 minutes, and shuttles typically run every 30 minutes. There may be an extra fee for luggage if you have any bags.
Parking Services at Podgorica Airport
The airport offers easy and reasonably priced parking services. You can choose the ideal parking option to meet your needs from a wide range of alternatives, including short-term and long-term parking.
Long-term parking is €6.00 per day, while short-term parking starts at €1.00 per hour. Parking fees are based on the length of stay. Rates could change at any time without prior notice. See more information about short and long term parking at Podgorica Airport.
Other Services at Podgorica Airport
Podgorica Airport offers a wide range of services to passengers and visitors. These include:
A wide variety of shops and restaurants
Banking and currency exchange facilities
A tourist information desk
Luggage storage and lost property services, and many more.
Wi-Fi at Podgorica Airport
Wi-Fi at Podgorica Airport is available in the public areas of the terminal building, as well as in the departure and arrivals halls. The service is free and can be accessed by anyone with a Wi-Fi-enabled device.
ATMs at Podgorica Airport
ATMs at Podgorica Airport are located in the Arrivals Hall near the exit doors, on the first floor of the Departures Hall, and in front of Montenegro Airlines check-in counters. The ATMs at Podgorica Airport offer a fast and convenient way to get hold of cash when you need it.
Whether you're looking to change some money for your holiday or just want to withdraw some local currency, airport ATMs have got you covered.
Currency Exchange at Podgorica Airport
The airport in Podgorica offers a currency exchange service for passengers arriving or departing from the airport. The Central Bank of Montenegro determines the exchange rate and is updated daily.
Nursing Mothers Station at Podgorica Airport
Nursing mothers can find a particular station for breastfeeding and expressing milk at Podgorica Airport. The airport offers a private, clean, comfortable space for nursing mothers to care for their needs. The station is located in the terminal near the family restroom.
Restrooms at Podgorica Airport
Restrooms at Podgorica Airport are located on the first floor of the terminal, near the check-in area and gates.
Food and Beverages at Podgorica Airport
There are few places to eat and drink at the Podgorica Airport. A few snacks and drink vending machines may be near the terminal's main entrance. Coffee, tea, sandwiches, and pastries can be found at some stores. Food and drink are more expensive at the airport than in town, so stock up before you get there.
Shopping at Podgorica Airport
Shopping at Podgorica Airport is a unique experience. You can find all the big brands, but you can also find local Montenegrin products. The airport has a range of food and souvenir shops. There is something for everyone at Podgorica Airport.
Smoking at Podgorica Airport
Smoking at Podgorica Airport is only allowed in smoking areas. These are marked, and passengers are requested to refrain from smoking elsewhere.
Lost and Found Section at Podgorica Airport
If you misplaced something at the Podgorica Airport, you must report it to the Lost and Found area as soon as possible. Please call +382 20 444 244.
Ticketing Services at Podgorica Airport
The airport has one terminal building equipped with self-service check-in kiosks. Ticketing services are located on the ground floor of the terminal building. Check-in for domestic and international flights is available at the ticketing counters.
Information Desk at Podgorica Airport
At the information desk in the Podgorica Airport, you'll find pleasant and helpful professionals who can answer any of your inquiries or address any problems you might have.
They can provide information about flight schedules, airport services, and local attractions. The information desk is your go-to source for assistance if you need directions to your gate or help to find a lost item.
Pet Relief at Podgorica Airport
Pet Relief at Podgorica Airport is a pet toilet area for all arriving and departing passengers. The facility is located in the airport's Arrival area and can be accessed via the South Exit. The pet relief area is open 24 hours a day, seven days a week. It offers a clean, safe and comfortable space for your pet to relieve themselves before or after their journey.
Baggage Claim at Podgorica Airport
Baggage claim at Podgorica Airport is located on the lower level of the passenger terminal. There are four conveyor belts, two for domestic and two for international flights. The airport is small, so baggage claim is usually not very crowded. However, during the summer months, when Montenegro is a popular tourist destination, it can get quite busy.
Disabled Passengers at Podgorica Airport
Podgorica Airport is committed to providing the best possible service to all its passengers, including those with disabilities. The airport has a special department for assisting disabled passengers, and staff members are trained in how to best help these passengers. Some special facilities at the airport are also designed to make travel easier for disabled passengers.
Useful Contact Details
When traveling to Montenegro for the first time, there are a few safety tips to keep in mind:
Be aware of your surroundings and who you are talking to. If you feel unsafe, it is best to leave the area and find a safe place.
Montenegro is a country with many different cultures and customs, so be respectful of the local culture and traditions.
Always carry your passport with you and make copies of important documents if you lose them.
Tips for first-time travelers in Montenegro:
Do your research: Montenegro is a relatively unknown country, so read up on it before you go. This includes learning about the culture and customs and what to expect regarding infrastructure and facilities.
Pack light: Montenegro is a small country, so you won't need to bring much. Focus on packing light, comfortable clothing and shoes and essential toiletries.
Be prepared for adventure: Montenegro is an outdoor lover's paradise, so come prepared for hikes, bike rides, and other activities. Make sure to pack plenty of sunscreens, insect repellent, and water.
Learn some basic phrases: Knowing a few keywords in the local language will go a long way in helping you connect with locals and make the most of your trip. Try to learn greetings, numbers 1-10, and how to say please and thank you before you arrive in Montenegro.
In case of any emergency, it is best to call 112 for the police or ambulance.
Hospital
Milmedika
Address: L 3 2-6 Vojvode Maša Đurovića, Podgorica 81000, Montenegro
Phone: +38220220190
Coordinates: 42.44178248660767, 19.23542914436243
https://waytomonte.com/en/p-3235-central-hospital-of-montenegro
Police
Podgorica Main Police Station (Centar Bezbjednosti Podgorica)
Address: C7V3+3C9, Podgorica, Montenegro
Phone: +38220224804
Coordinates: 42.44286322933756, 19.253579397556834
Podgorica Airport Contacts
Address: 969W+4M5, Golubovci, Montenegro
General Phone: +382 20 444 244
Lost and Found Phone: +382 20 444 244
Information Desk: +382 20 444 244
Official website: https://montenegroairports.com/en/podgorica-airport
Local Information
Drive on: Right
Electricity: 230V/50Hz.
Plug: C, F
Currency: Euro, €
Wi-Fi at Airport: You can connect to the internet at Podgorica Airport without charge.
Services at Podgorica Airport
Useful Information about Podgorica Airport